VIDEO, photo gallery and new blog - MOTHERLOVE benefit 5/21/14 with Rufus and Martha Wainwright CLICK HERE
SUPPORT THE ARTIST - BUY DIRECT VIA PAYPAL!
FEBRUARY 4
CONTENT CREATORS COALITION EVENT at
Le Poisson Rouge, NYC on FEBRUARY 25th
This is a great one - I'm going to perform with REM's Mike Mills at an event to raise awareness for the great CCC, of which I'm proud to be a part. We're trying to get RESPECT for artists so that the content they create is treated as the precious, valuable commodity that it is.
VIDEO: Marilyn and Mike Mills perform James and Bobby Purify's "I'm Your Puppet"
VIDEO: Marilyn, Tift Merritt and David Byrne perform Biz Markie's "Just a Friend"
APRIL 26​
​
FIRST MUDVILLE SHOW NEXT FRIDAY, MAY 3 IN ATLANTA
​
​Next Friday night, May 3rd at 9:00 pm Mudville performs at a special gallery show featuring the artists of the Fine Arts Workshop Atelier in Atlanta, GA. It's also my birthday, and there will be wine and food for all, included in the $20 ticket price.
​
Rehearsed yesterday with "Mudville South", which is Colin Agnew on drums and Chris Case on keyboards. Those guys are badass! Benny Cha Cha will, of course, play bass, it isn't Mudville without that. Seating is very limited, so we suggest you buy tickets in advance. Doors open for the gallery show at 8:00. ​​
​
​Friday, May 3, 2013, 9:00 pm - Mudville at Fine Arts Workshop at ​King Plow Arts Space, Atlanta, GA - BUY TICKETS
​​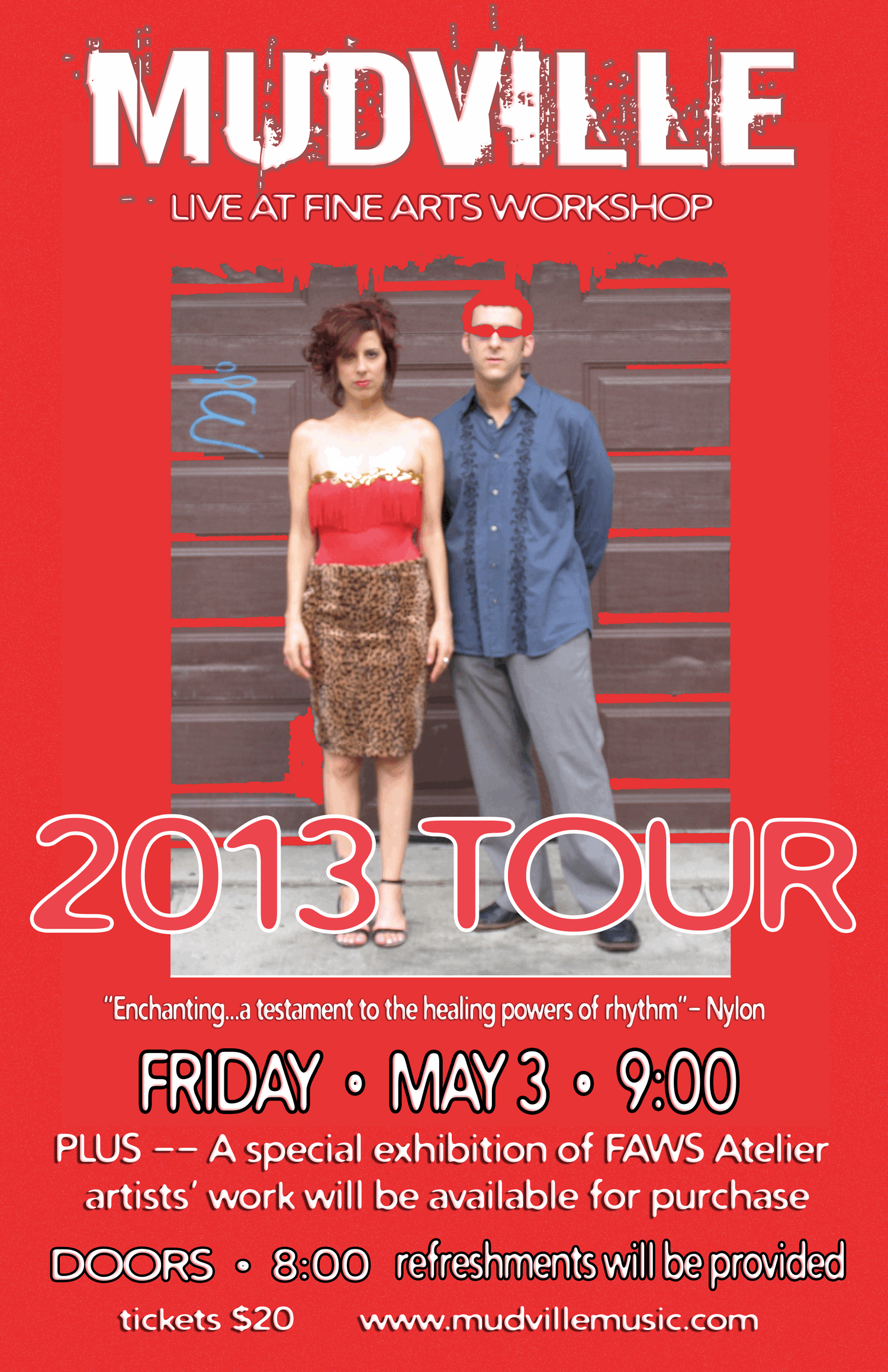 MAY 20​
​
​THANKS EVERYONE WHO CAME TO OUR SOLD-OUT ATLANTA SHOW ON MAY 3RD! ​
​Big fun at our Atlanta show, it was a real party and a very happy birthday for me. Thanks to our special guests, rapper Jonah Swilley, and guest singers Leanne Tupper and my new crush, singer/songwriter Adron.
​
Gearing up for our upcoming Indiana shows, first one is June 14th in Fort Wayne at Wunderkammer Arts Space. Get your tickets now, we think this one will sell out too
​
​Friday, June 14th, 2013, 9:00 pm - Mudville at Wunderkammer Company Arts Space, 3402 Fairfield Avenue, Fort Wayne, Indiana 46807​
​​
Saturday, June 15th, 8:30 pm - Mudville at Serendipity, Bloomington, IN
MAY 22

​
FIRST VIDEO FROM ATLANTA SHOW
​
Here's the first-ever performance of "Your Message Has Been Sent, Goodbye" from May 3, 2013​
JUNE 21

​
FIRST VIDEO FROM MIDWEST SHOWS!
​
PRIVATE PLANE - LIVE at Wooden Nickel Music
Fort Wayne, IN 6/13/13
OCTOBER 8
NEW SHOW JUST ADDED
International Women's Day Festival
​Saturday, March 8, 2014
Bill Lowe Gallery, Atlanta, GA
JULY 1
LATEST VIDEO FROM MIDWEST SHOWS!
​
NO DISGRACE - LIVE at Wooden Nickel Music
Fort Wayne, IN 6/13/13
DECEMBER 17
RECORDING LITTLE GENIUS FOLLOWUP
Finally back in the studio, have ten songs written and starting to come together. I've decided to call it Leaves, Sadness, Science. I recently saw a Frida Kahlo exhibit in Atlanta, there were colored rooms painted according to the emotions Frida associated with different colors. Yellow was madness, blue was peace, and green was "leaves, sadness, science". The songs are a story of New York.
JANUARY 3
PILGRIMAGE TO MEMPHIS
Just returned from a few days in Memphis, where I'd never been. Visited the birthplace of soul and soaked up the blues. Had a conversation with the King's ghost at Graceland, I had to confess my disappointment with his legacy and his particularly graceless home. Read it HERE
MARCH 17 ​​​
​
NEW MUDVILLE SHOWS ADDED!
​
Friday, May 3, 2013, 8:30 pm - Fine Arts Workshop at ​King Plow Arts Space, Atlanta, GA - BUY TICKETS
​Friday, June 14, 2013, 9:00 pm - Wunderkammer Company, Fort Wayne, IN - BUY TICKETS
Saturday, June 15, 8:30 pm - Serendipity, Bloomington, IN
​JANUARY 26 ​​
Another clip from the great FX drama series "Regenesis", this one features Mudville's song "The Hero of the World" from The Glory of Man is Not in Vogue. The fallen hero returns to the fold. Perfect!​
​DECEMBER 29 ​
Taking an infinitesimal break 'til after New Year's, back in the studio with Benny Cha Cha recording more new Mudville soon.. New Year's is the only meaningful holiday besides those witchy solstices and that day when everyone talks like a pirate. Think positive thoughts about the future, plan something scandalous, forgive some old grudges.
​
Love, Marilyn​
DECEMBER 1
NEW BLUE NOTE VIDEO​
​​
First video from my recent Blue Note show in March, 2012, live with the Dred Scott Trio - this was a chilled-out version of Joni Mitchell's "Black Crow" from her great Hejira album
NOVEMBER 18 ​
LITTLE GENIUS COMPANION BOOK IS OUT
My book of photos and essays, the companion to the Little Genius album is out now. It's a beautiful hardcover book that includes never-before published photos of me and of Mudville in the studio recording Iris Nova in Ottawa. Also lyrics and the stories behind the songs. Get a signed copy now for $45 HERE
JULY 21 ​
MIXING WITH MIKE MILLS AND JOSEPH ARTHUR
Serious music and fun in Red Hook, Brooklyn. Mixing my and Mike Mills' tracks at Joseph Arthur's Rebel Country studio and the margaritas we met along the way.
JULY 1 ​
RECORDING IN ATHENS, GA
​
​
Recording new music for Michael David's upcoming film "Straight Coffin in a Crooked Hole" with Mike Mills in Athens, GA
MAY 22 ​
TIME BOMB - LIVE IN ATLANTA
​
​
From my show at Atlanta's Grocery on Home, with Benny Cha Cha on bass and Colin Agnew on drums. A fantastic show in a great venue!
MARCH 20 ​
CANADIAN MUSIC FEST SHOWS in TORONTO
Two shows, 3/21, 8:00pm at the El Mocambo upstairs, Friday, 3/23 solo at the Library Bar at the Fairmont Royal York hotel - I'm also going to be doing a mentoring panel and we're hosting a listening party for Little Genius, details TBD. Looking forward to seeing my friends in Toronto and lots of local music!
​
​
​
​
​
​